The Crafting Cottage Inn is a haven for paper crafters looking to spend two or more days crafting to their hearts' content.  The inn is located in an historic home built in the 1800's in Painted Post, New York.  It was involved with the Underground Railroad and has quite a history.  This beautiful cottage is located in a picturesque village surrounded by a variety of historic homes ranging from Victorian style to Craftsman to Early American.  Across the street is the Hodgman Park.  The Crafting Cottage is in the original Hodgman House!
The Inn can accommodate up to ten crafters comfortably with each crafter having their own  table. 
 There is a minimum of only three guests required to reserve the Inn for a weekend stay.
A maximum of ten guests can be accommodated at the Inn.
A weekend stay is considered any Friday, Saturday and Sunday.
The fee for a weekend stay is a minimum of $160.00 per person plus applicable taxes.  

**NEW Information** For Guests Staying at the Inn in 2020:
Guests who can only stay for one night during a weekend are still responsible for paying for two nights. 

All guests planning to stay at the Inn are required to pay their first night's non-refundable deposit of $80.00 
no later than one month prior to their group's arrival date. 
 
Rates for the Crafters Inn starting January 1, 2020 will be $80.00 per person per night (Monday - Thursday).
Rates for a weekend stay at the Inn (Friday - Sunday) is $160.00 per person for the weekend plus taxes.
*NEW* for 2020:  Guests who want a room of their own when staying with a group - as long as 
there is availability - can enjoy a private room for $210.00 for a weekend stay. ($105 per night).

Please note that there is also an 8% sales tax and a 4% Steuben County Room Tax that is added to your stay.

Here are how the Guest Rooms are assigned:
Three guests for a weekend  - Enjoy staying in a bedroom with three twin beds.
Four guests staying at the Inn enjoy their choice of two rooms with two guests in each room.
Five guests staying at the inn enjoy a room for three plus one of the rooms with two beds.
Six guests staying at the Inn will be paired up amongst three of the guest rooms.
Seven guests will be assigned "The Harmony Suite", "The Tranquility Suite" and "The Serenity Suite".
Eight to ten guests are divided up amongst all four guest rooms.
****Please note:  The first floor guest suite is reserved for those guests
 that cannot or should not go up and down stairs 
for any reason.*** 
 The Harmony Suite is made available when there are six or more guests staying at the Inn, or when a guest reserves it as a Private Suite or when a guest has medical reasons that make it necessary to stay on the first floor.

When there are three to five guests staying at the Inn, please know that The Crafting Cottage may have a class or workshop scheduled to take place on a Saturday for a few hours.  The smaller workshop room will be used and as a guest staying at the Inn, you are more than welcome to register for the class if you wish.  You will be notified in advance if a class or workshop will be held on the Saturday of your stay.

There is now an option for "Solo Crafters" to stay at the Inn. 
For more information and to inquire about the rates and availability, please send an email to:

To reserve a weekend and have it removed from the website so that another group cannot book it, a non-refundable deposit of $240.00 (3 x $80) is required to hold a weekend date for your group.  All members of your group must pay their first night's deposit no later than one month from the reserved weekend date.
Please make sure the date you select works for everyone in the group as once the deposit is put down,
it is not refundable unless the Crafting Cottage/Crafters Inn, LLC should need to cancel the weekend due to weather or other unforeseen emergency. 
To see what dates are available and to reserve your weekend - please click on this sentence! 
Thank you so much for your interest in the Crafting Cottage's Inn!


Check-in time is anytime starting from noon onward on the Friday or Thursday of your weekend.
Check-out time is noon on Sunday.  Should crafters wish to stay longer to craft and play on Sunday -
advance notice is necessary and there is an additional $15.00 per person per hour.
Your fee includes your stay in one of the rooms (twin size beds), all linens/towels, etc., provided plus full use of the kitchen with microwave, refrigerator, oven, stove and dishwasher, pots, pans, plates, glassware, cooking utensils, etc.. 
  Guests are encouraged to bring their own food for meals - there is plenty of room in the refrigerator and freezer!
 There are several restaurants nearby for meals as well as various take-out restaurants that will deliver.

 Your fee also covers your 24 hour use of the Tool Room during your stay which houses thousands of rubber stamps, hundreds of dies plus die-cutting machines, embossing folders, markers, chalks, ink pads and more.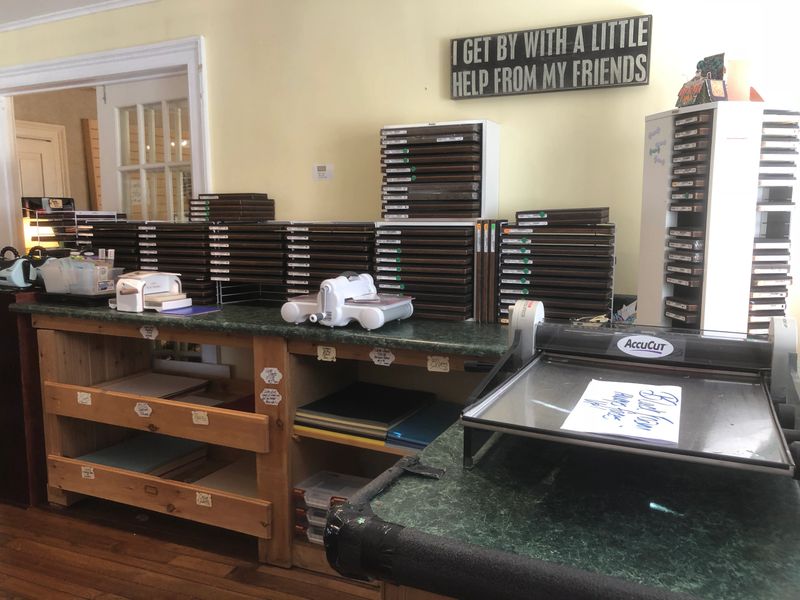 The Main Workshop (below) houses six 6' tables, cushy office chairs with lumbar support, plenty of lighting and access to the Tool Room which is right next to it.
The second Workshop houses 4 more tables, chairs, lighting, etc. for when there are more than six crafters.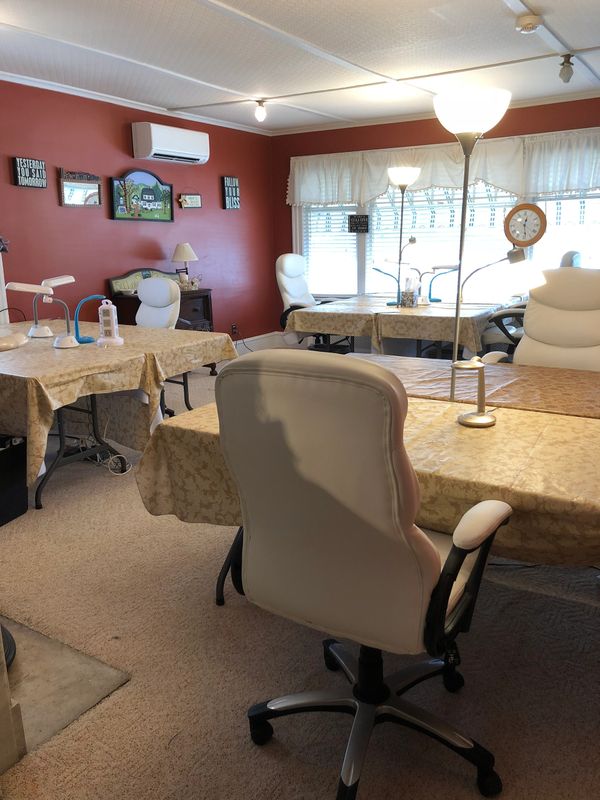 Workshop Room #1 (above) seats 6 crafters very comfortably.
Workshop Room #2 (below) seats 4 crafters very comfortably.
Below picture shows one configuration for this room.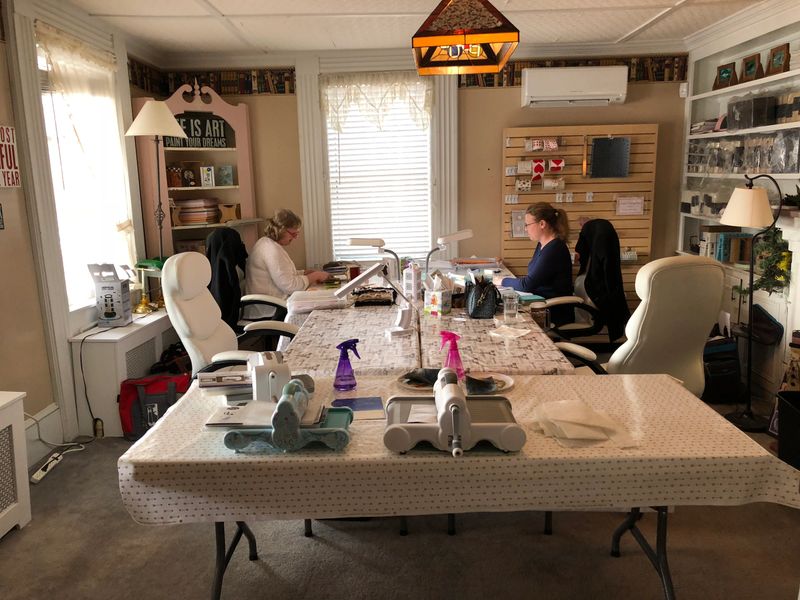 The Crafting Cottage retail shop is available during the hours of your stay where you will find staples such as adhesive to treasures such as stunning papers from Italy!  It works on the "Honor System".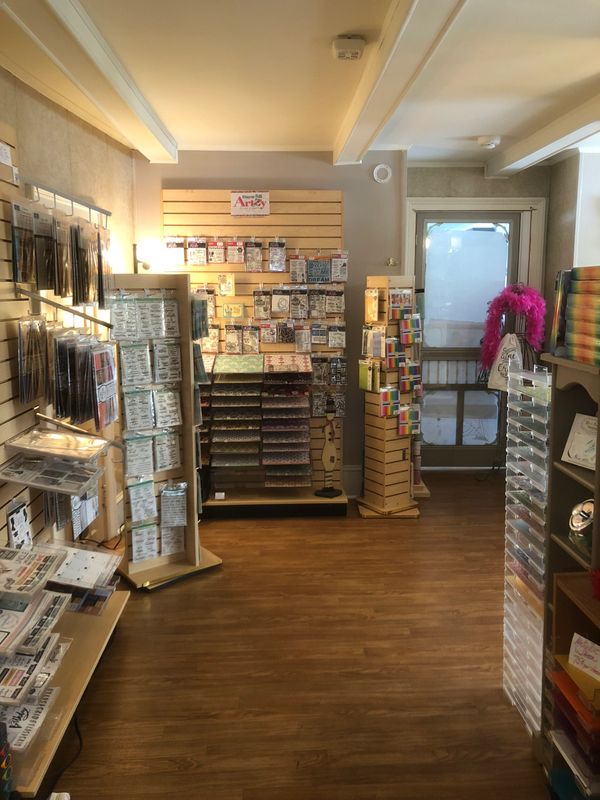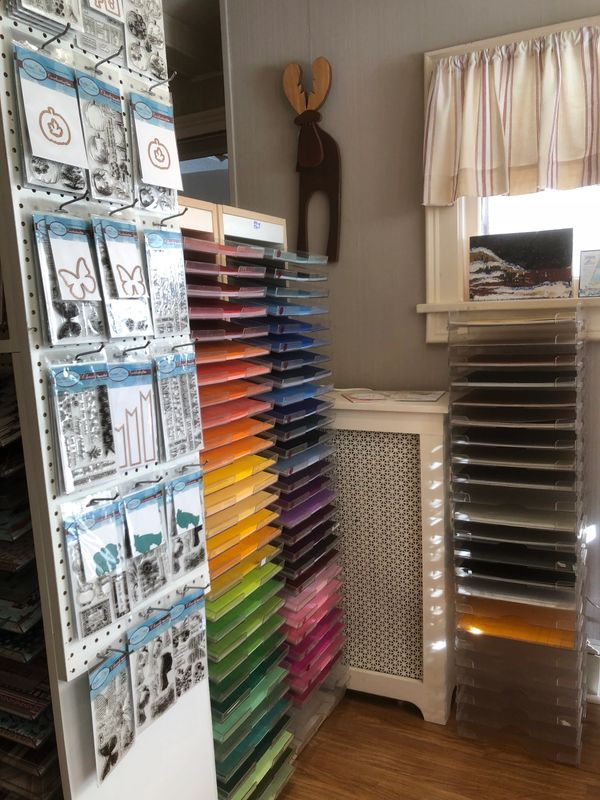 There is a "Beverage Center" which is available to all guests.  It includes an ice-machine, a Keurig machine with several choices of pods for coffee, tea, cider and cocoa. Guests may wish to bring their own "Half 'n Half", otherwise there is powdered cream available. There is a hot/cold water cooler.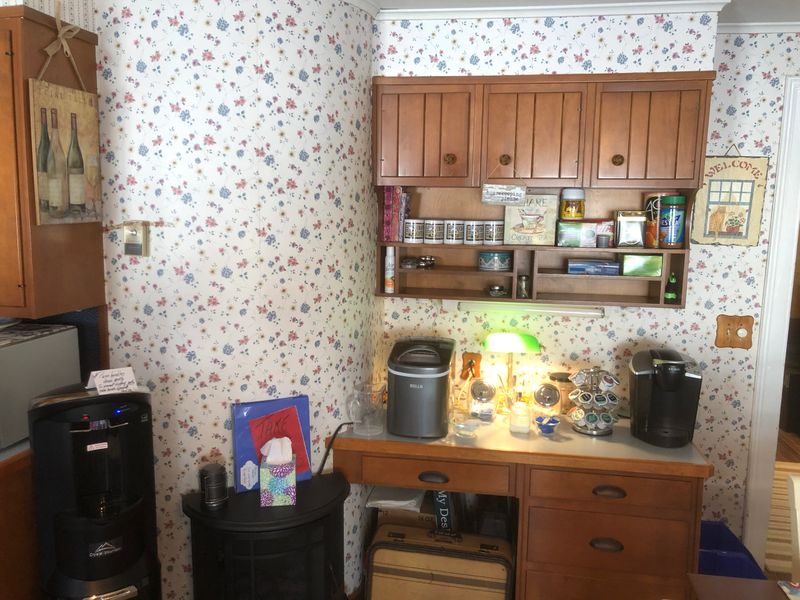 On the second floor are two guest rooms that each accommodates two guests and share a full bathroom.  The third guest room on the second floor can sleep up to three guests and has its own full bath. 
 
The Serenity Suite, on the second floor, is bathed in shades of pink and cream with beautiful flowers to give one the feeling of staying in a garden.
This suite accommodates up to three guests.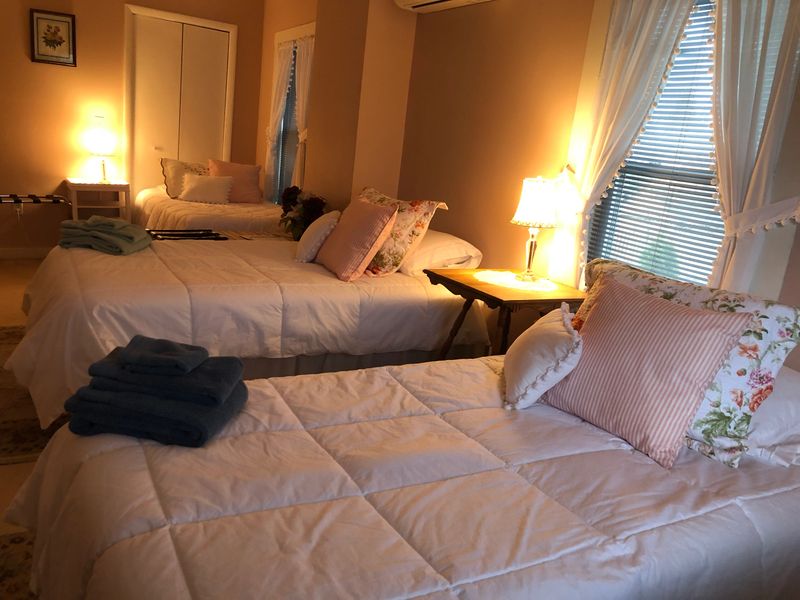 The Tranquility Suite, on the second floor, calms with its beautiful blues and nod towards the sea.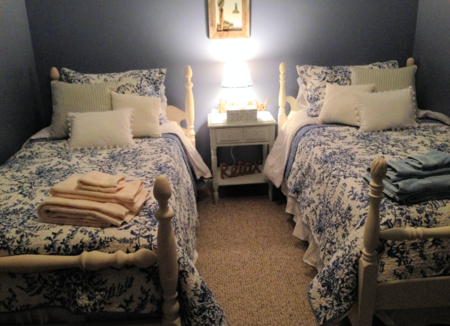 This suite can accommodate two guests. 
The two suites above share a full bathroom.
The Harmony Suite accommodates three guests and has a private full bath and is on the second floor.  This is the bedroom used when more than five crafters reserve the inn for a weekend.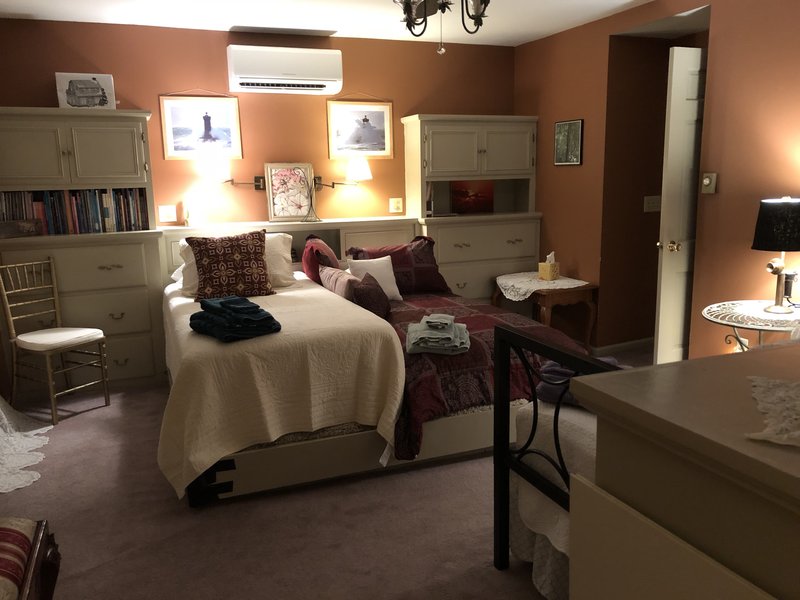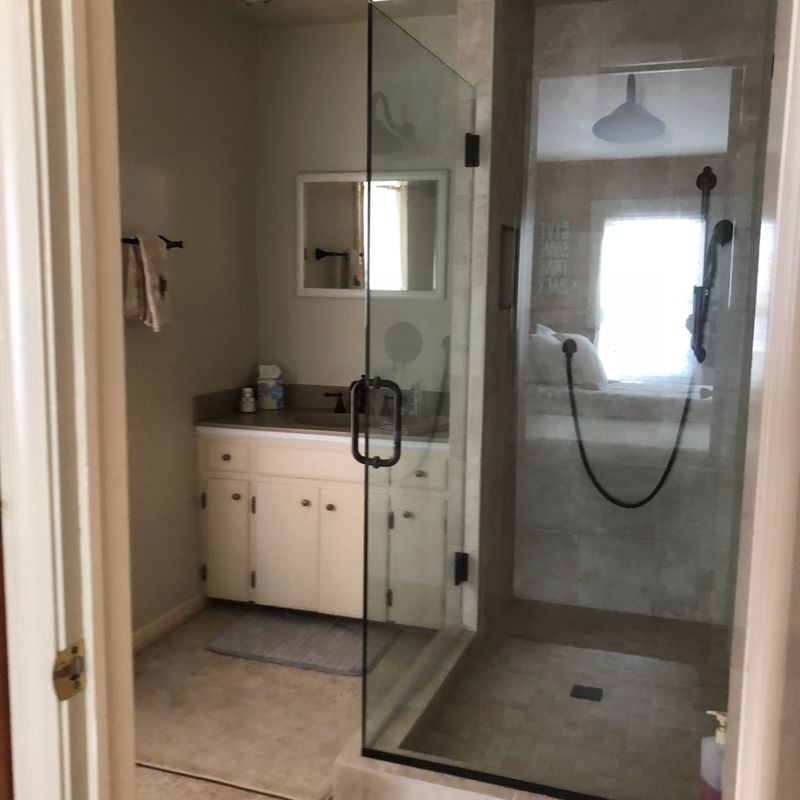 The Crafters' Sanctuary is located on the first floor and is reserved especially for those crafters that cannot go up and down the stairs to the second floor guest rooms easily.  This room accommodates two guests and has access to a full bathroom.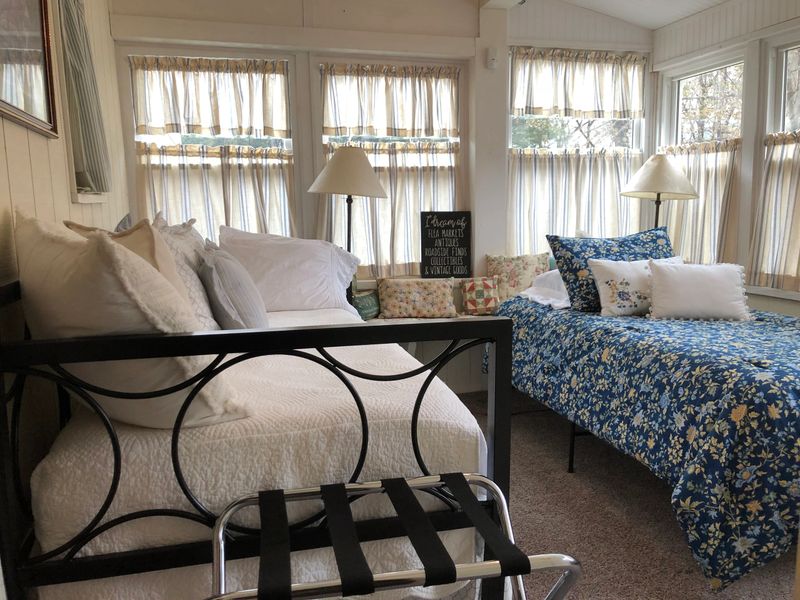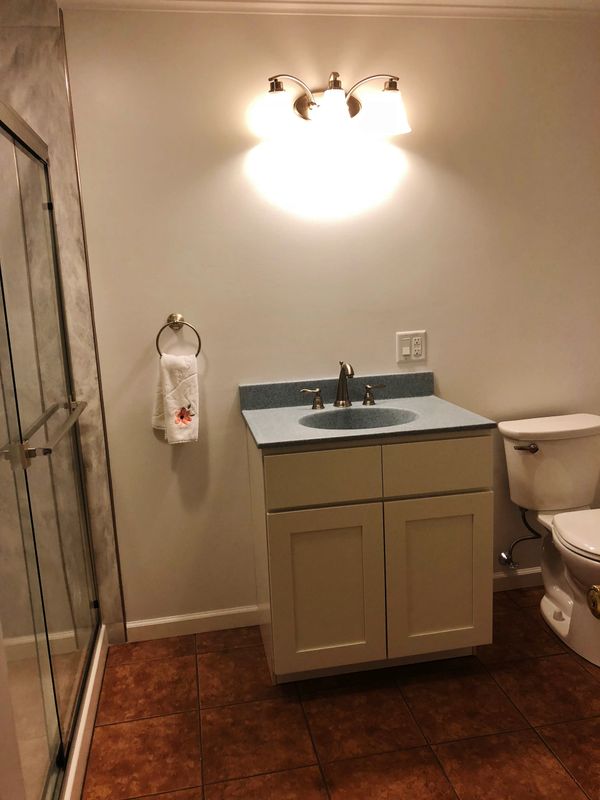 The dining area will accommodate eight guests.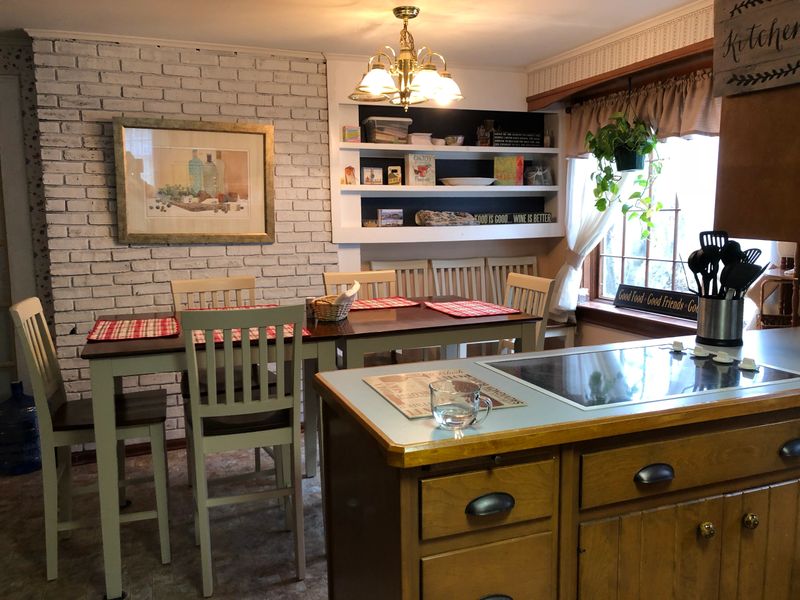 To see what dates are available and to reserve your weekend - please click on this sentence!