The Crafting Cottage Inn is a haven for paper crafters looking to spend two or more days crafting to their hearts' content.  The inn is located in an historic home built in the 1800's in Painted Post, New York.  It was involved with the Underground Railroad and has quite a history.  This beautiful cottage is located in a picturesque village surrounded by a variety of historic homes ranging from Victorian style to Craftsman to Early American.  Across the street is the Hodgman Park.
  The Crafting Cottage is in the original Hodgman House!
******Updates on The Crafting Cottage Inn******
Please note the following updates for 2023:
* The maximum number of guests to stay at the Inn is 6.

*The minimum number of guests to stay at the Inn is 3.
For four, five or six guests:
The rate is $200.00 + 4% County tax & 8% Sales tax per person per weekend (Friday - Sunday)
For three guests (there is a rate increase):
The rate is $250.00 + 4% County tax & 8% Sales tax per person per weekend (Friday - Sunday)
**The Inn Keeper's Special Bonus Rate**
for groups that wish to arrive a day early (Thursday) 
or
stay an extra night and check out on Monday instead of Sunday,
regardless of size of group (3, 4, 5 or 6) - the rate is $50 + taxes per person per night.
** This special rate is offered when the entire group wishes to arrive early and/or stay an extra night.**

It is not offered for just one or two members of a group to take advantage of.
All members of a group need to book their own reservation via the online website and pay their 
first night's deposit,
which is non-refundable.
Greetings Crafters,
Understandably, The Crafting Cottage Inn has made major changes in its operations due to
 the Covid-19 virus and the Delta Variant and all future variants.
This is an ever-changing situation and I, along with thousands of other small inns, retreat houses and
 shop owners continue to learn what we need to do to adjust to what will be for all of us - our "new normal".
Here are the changes that have been implemented for and could change at any time:
1)  The Inn will accommodate
no more than six guests
at this time for a weekend booking. 
 The minimum number of guests needed to reserve the Inn
 for a typical Friday - Sunday weekend is three.
Please note - there are no "one night only" stays during a weekend booking.  All guests are charged the full amount
regardless of whether they are able to stay the entire time with their group or not.


**For guests that wish to arrive a day early (Thursday) or stay a day later (check out on Monday)
 is a simple addition of $25.00 per day per person - in 2022.**
2) There are air sanitizers located in shared bathrooms as well as in the main workshop.  
3) Air cleaners/sanitizers are located in the two double-occupancy guest rooms.  
4) Sanitizing products will be stationed throughout the Inn for guests to use.
5) Check-ins and check-outs will be "contactless". 
 A code will be assigned to your group to gain access to the Inn.
Check-out time has been changed to 5 PM!!! Yeah!!!!
To reserve a weekend, please select the weekend of your choice that is available
Friday check in is
(

anytime AFTER 1 PM

)
till Sunday check out
(5 PM)
Please don't plan to arrive sooner than 1 PM.
 Time is needed so all rooms can be cleaned and 
sanitized properly after Thursday night events, workshops and or classes.  
Final payments are taken care of at check-out time via contactless options.
Your fee includes your stay in one of the rooms (twin size beds), all linens/towels, etc., provided plus full use of the kitchen with microwave, refrigerator, oven, stove and dishwasher, pots, pans, plates, glassware, cooking utensils, etc.. 
  Guests are encouraged to bring their own food for meals - there is plenty of room in the refrigerator and freezer!
 There are several restaurants nearby for meals as well as various take-out restaurants that will deliver.
Enjoy bringing your favorite wine, cocktail mixes, etc.. 
 There is a blender in the kitchen and wine bottle openers as well as wine glasses.

 Your fee also covers your 24 hour use of the Tool Room during your stay which houses thousands of rubber stamps, hundreds of dies plus die-cutting machines, embossing folders, markers, chalks, ink pads and more.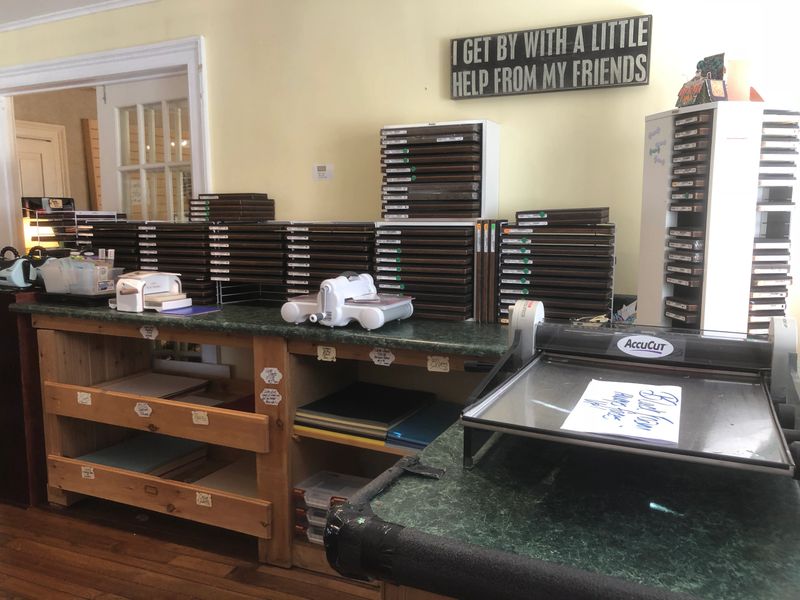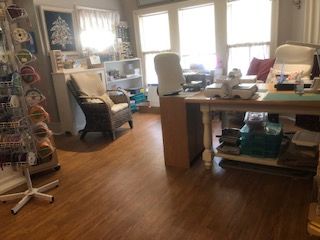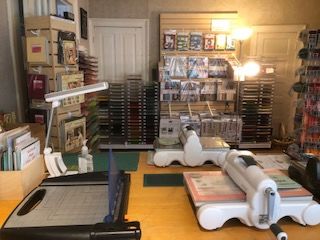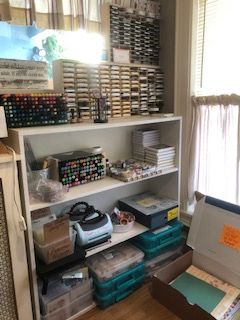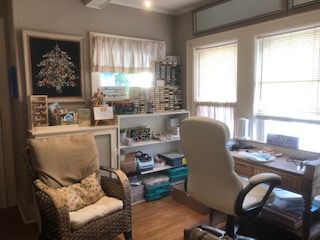 The Main Workshop (below) houses several 6' tables for  crafters to use plus cushy office chairs with lumbar support, plenty of lighting and access to the Tool Room which is right next to it.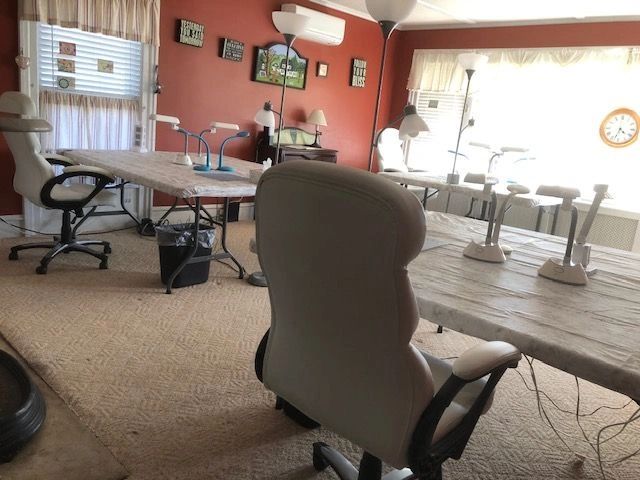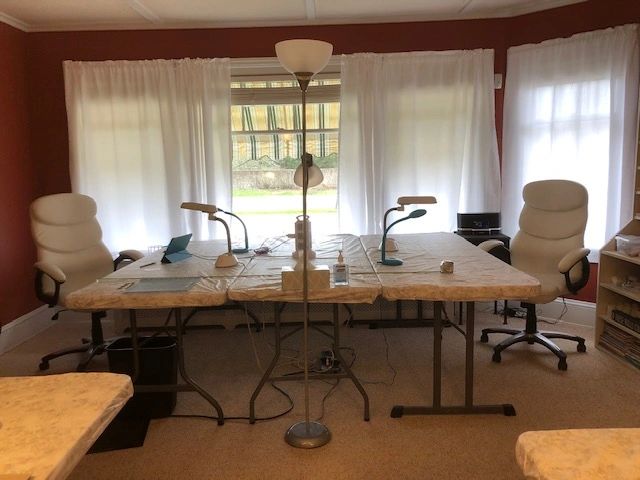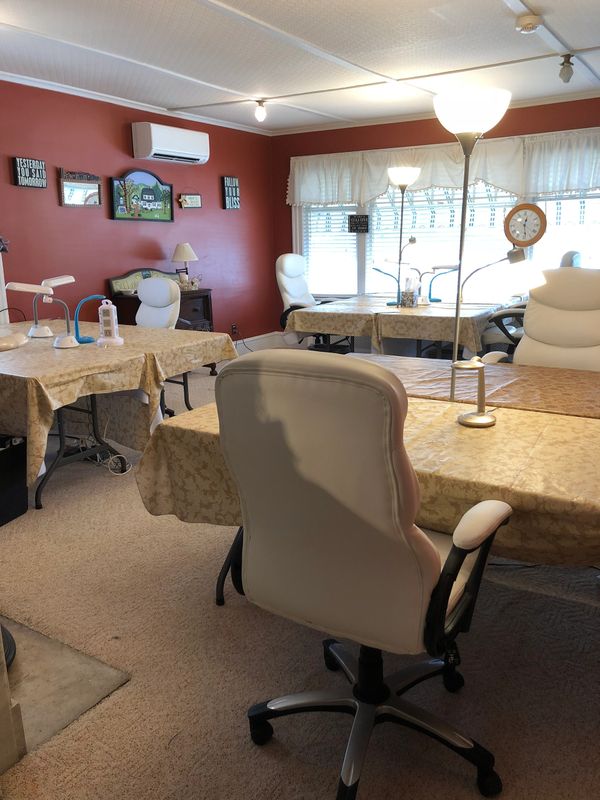 There is now a "Crafters' Lounge" area as well as a Tool Room Annex and mini retail shop in the main Cottage.
There is a "Beverage Center" which is available to all guests.  It includes an ice-machine, a Keurig machine with several choices of pods for coffee, tea, cider and cocoa. Guests may wish to bring their own "Half 'n Half" - otherwise
 there is powdered cream available. There is a hot/cold water cooler.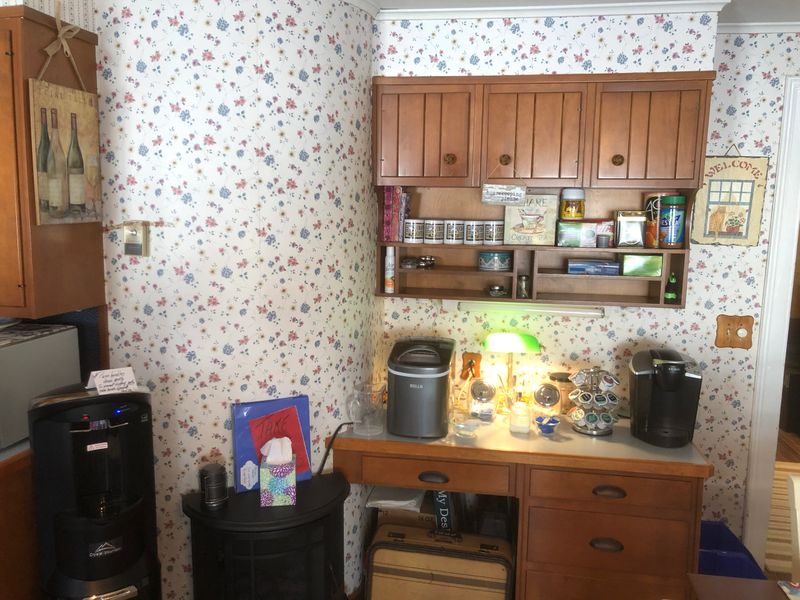 The Country Cottage Room is on the second floor, bathed in shades of pink and cream with beautiful flowers to give one the feeling of staying in a garden.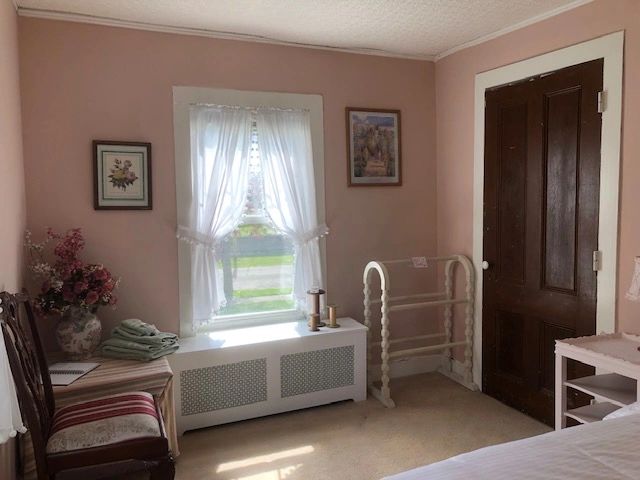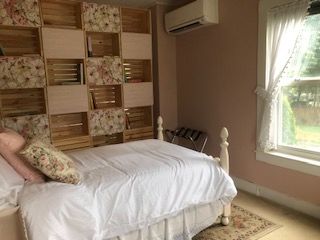 The Seaside Cottage Room, on the second floor, calms with its beautiful blues and nod towards the sea.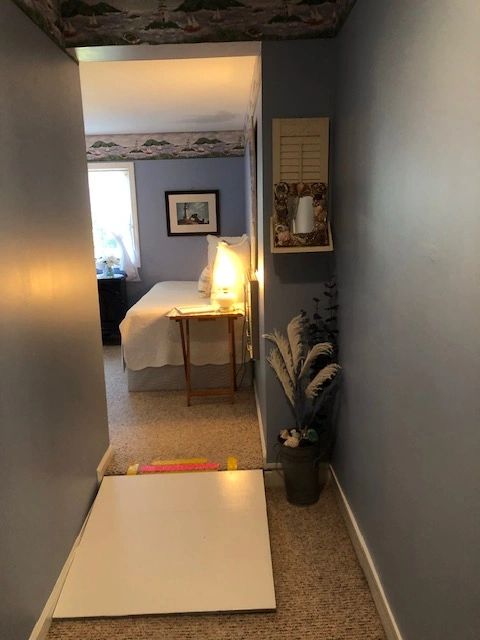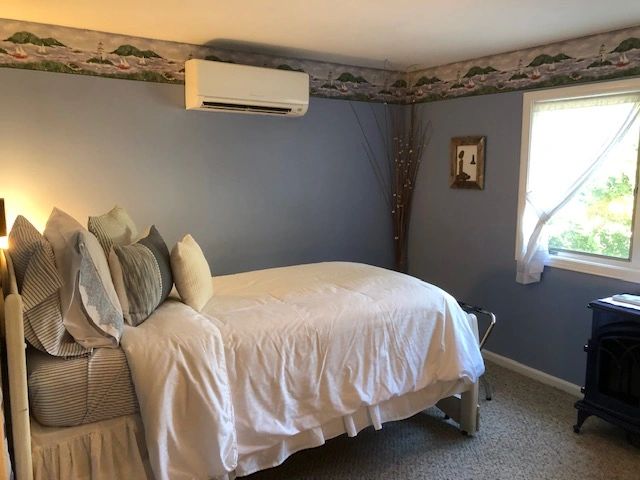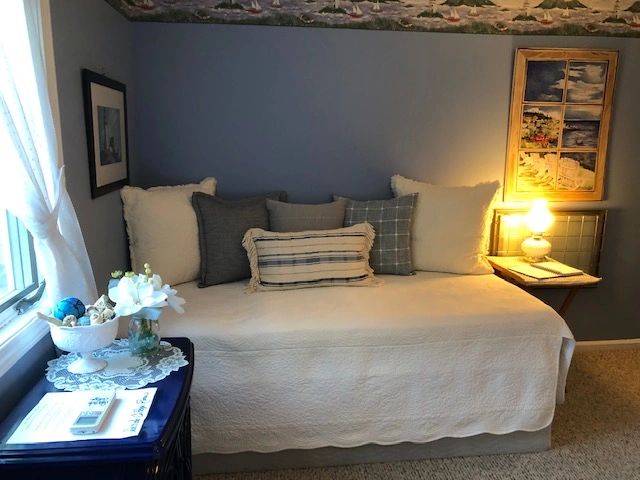 The Harmony Suite has its own private full bath. This room accommodates two guests.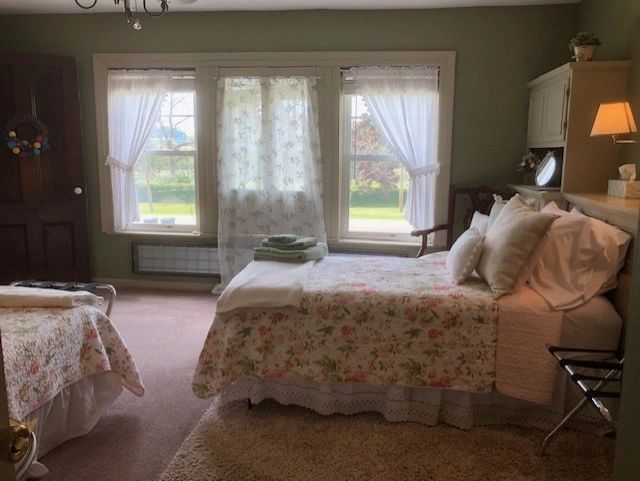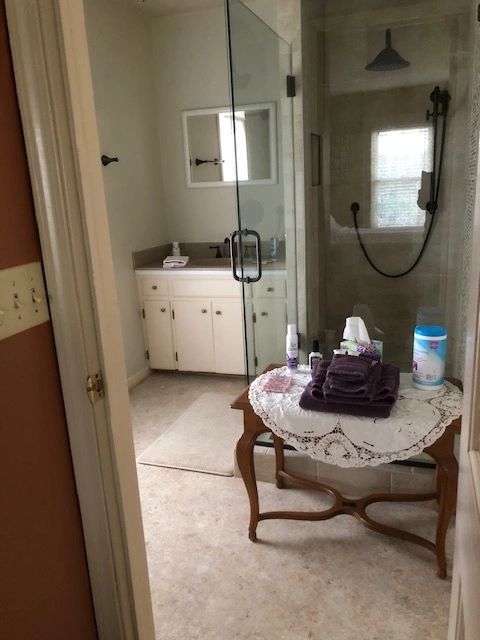 There is a guest room currently being renovated on the first floor (no pictures available yet), which will be able to accommodate up to three guests.  The first floor guest room is usually reserved for our crafting guests that cannot easily do stairs due to mobility issues.
The new guest room is just a few steps from the dedicated full bathroom.
Pictures of the new guest room will be posted in mid-September.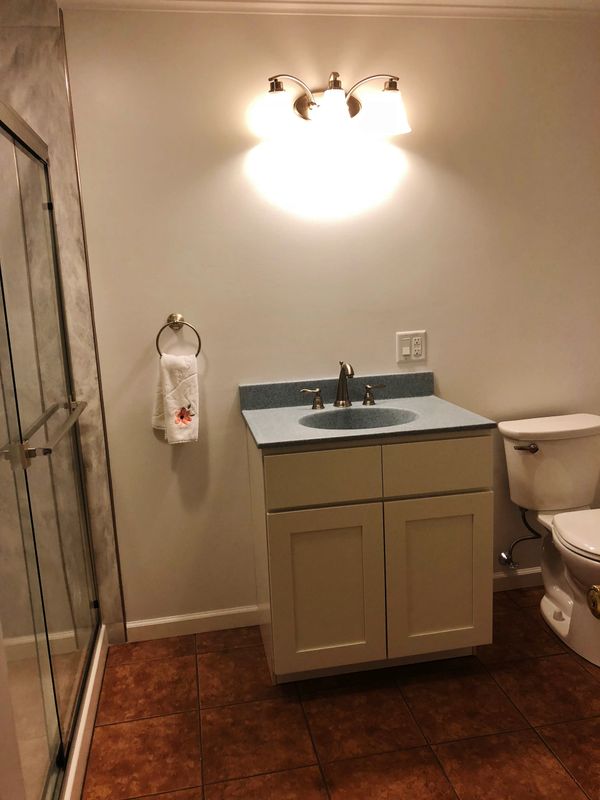 The dining area.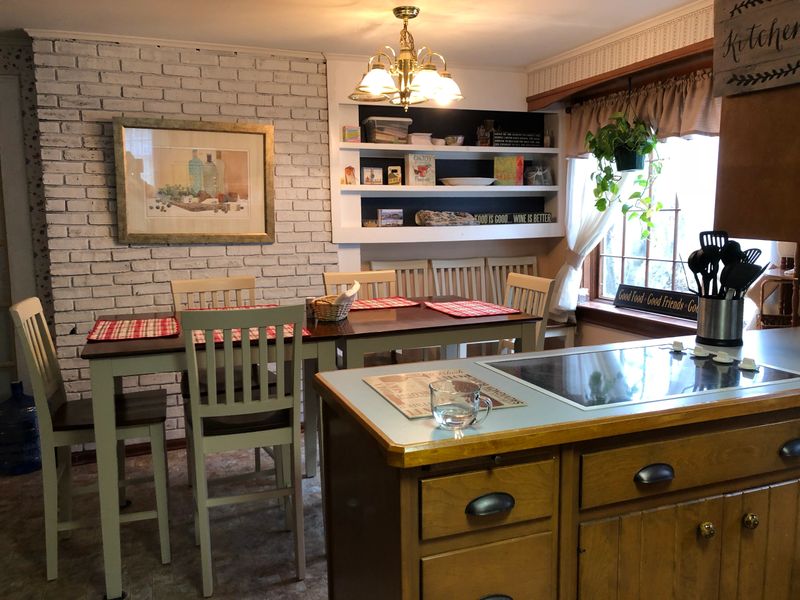 To see what dates are available and to reserve your weekend - please click on this sentence!